Biography
References
Artworks

1924-2002
Born in 1924 in Saligao, Goa, Souza was pursuing an art education at the Sir J.J School of Art before he was expelled in 1942 for taking part in the 'Quit India' freedom movement. He then went on to found the Progressive Artists' Group in 1947 along with fellow artists, leading the edge of the Indian modernist art movement. In 1949 he left for London where after a few years of struggle he began to make a mark on the art scene.
In the 1950's Souza shot to fame with his one-man show at Gallery One in London, which is also when his autobiographical essay 'Nirvana of a Maggot' was published. He was awarded the John Moore Prize at the Walker Art Gallery, Liverpool in 1957 and received the Italian Government Scholarship in 1960 and in 1959 his autobiography 'Words and Line' was first published. In 1967 he migrated to New York where he received the Guggenheim International Award.
Along with several solo exhibitions in London he was invited to exhibit at the Institute of Contemporary Arts, London and the Venice Biennale-1954; Guggenheim Foundation, New York-1967; 'Commonwealth Artists of Fame', London-1977; 'India : Myth and Reality - Aspects of Modern Indian Art', Museum of Modern Art, Oxford and Festival of India, Royal Academy of Art, London-1982; 'Modern Indian Painting', Hirschhorn Museum, Washington D.C.-1982. Retrospective exhibitions of his work were organized by Art Heritage Gallery, Delhi-1986 and 1996.
Souza passed away in Mumbai in 2002
Wikipedia:
Francis Newton Souza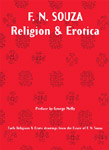 F.N.SouzaReligion & Erotica
Preface by George Melly
Artworks available
Contact us
for more informations.
If you own an Artwork by this Artist and should you wish to sell it,
don't hesitate to
contact us